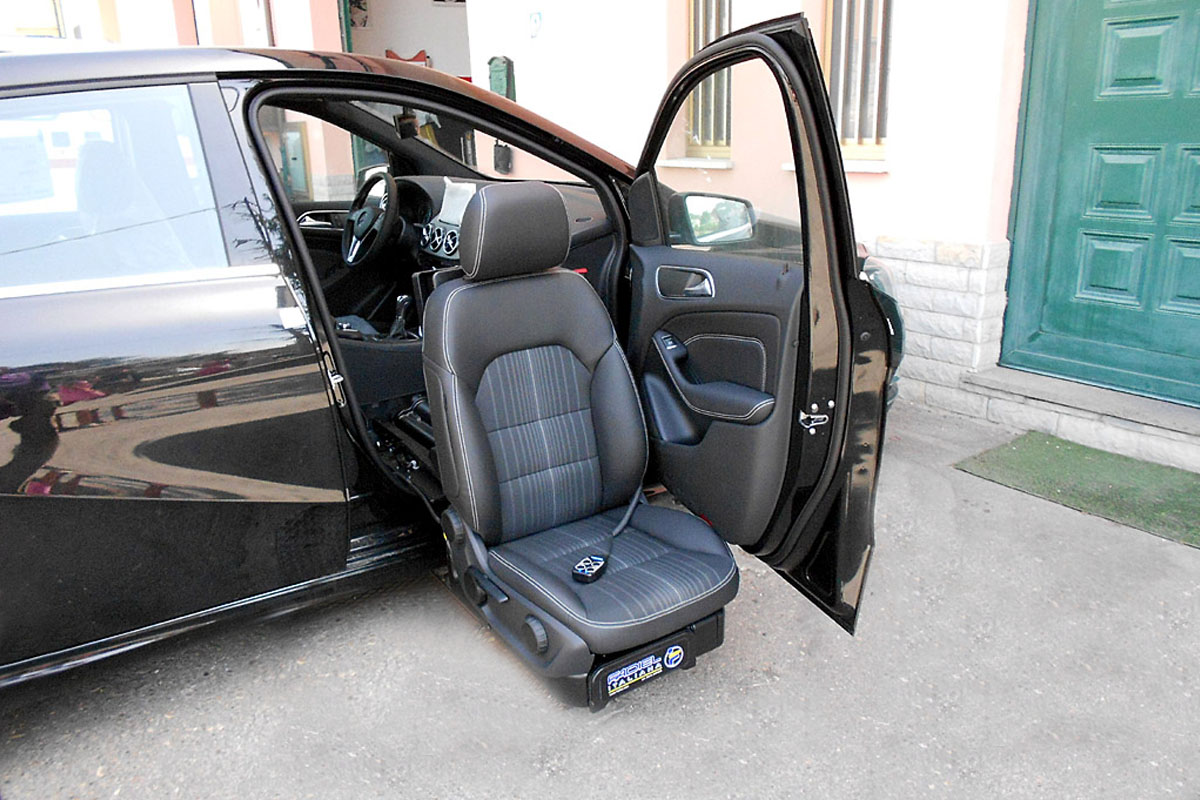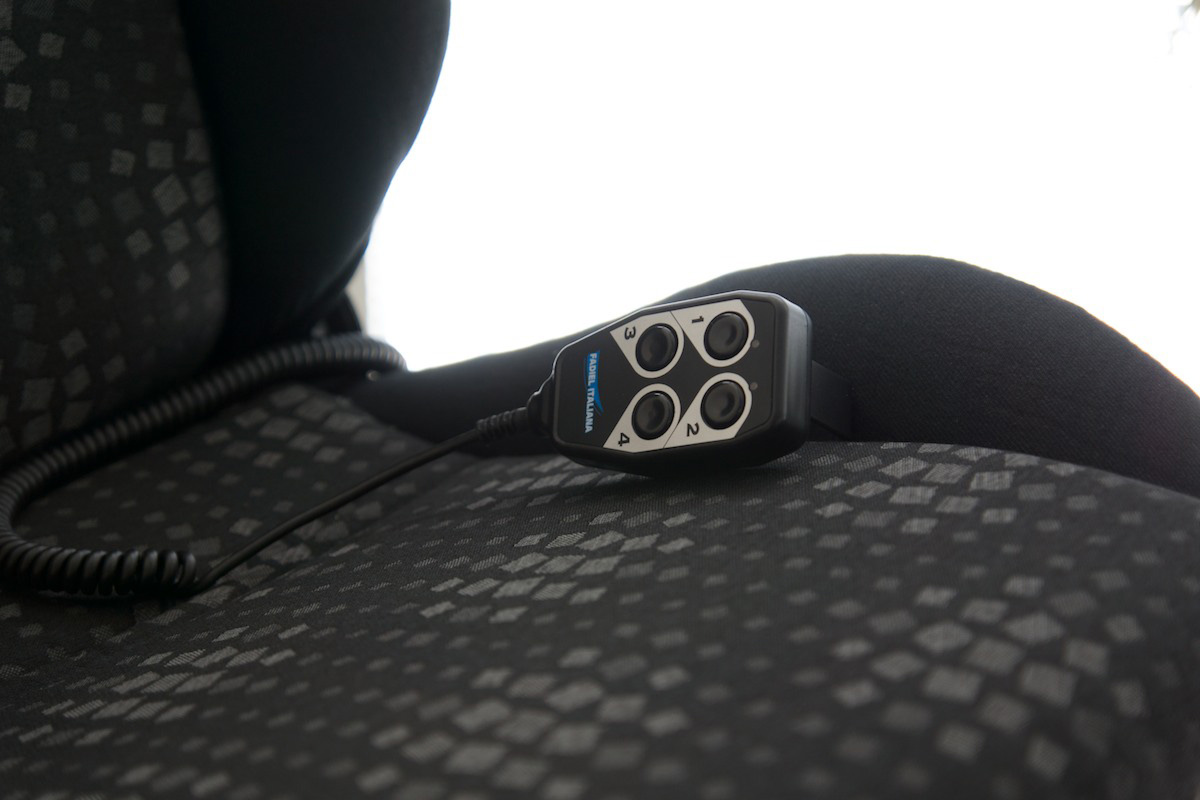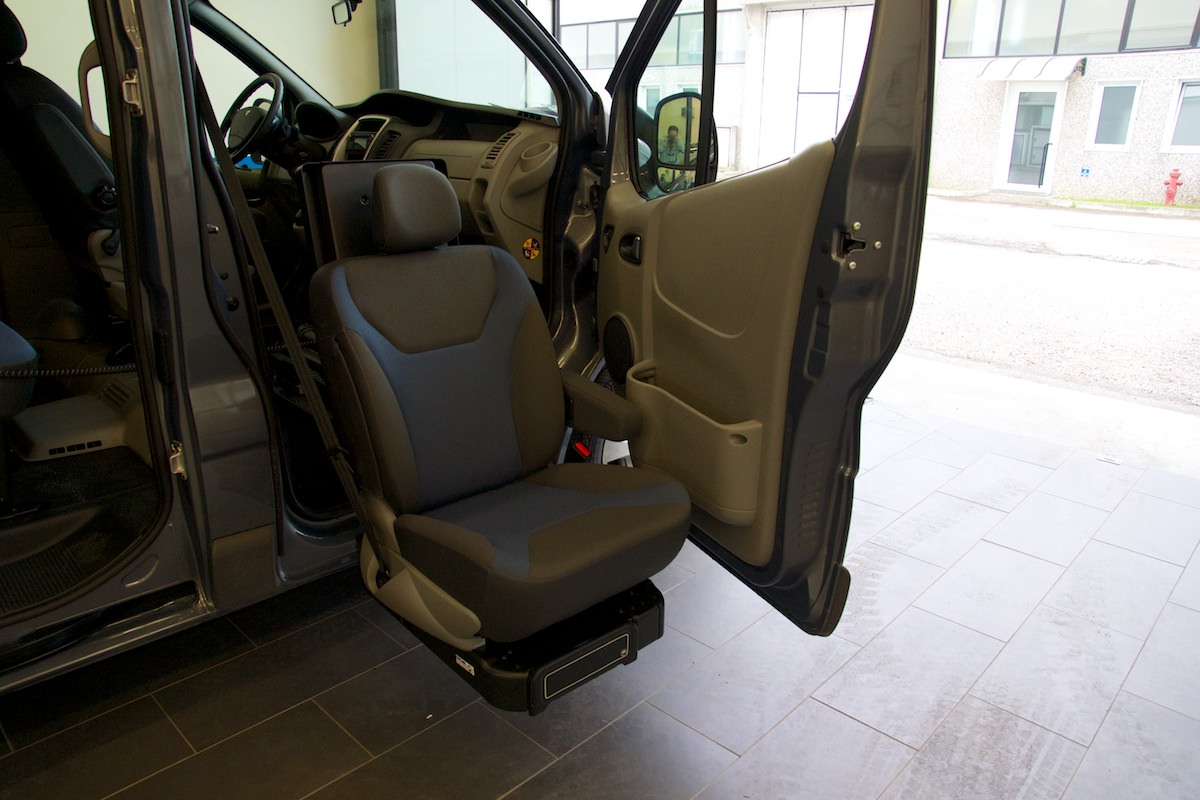 C400 OUTGOING SWIVEL SEAT
The C400 Emergency Swivel Chair is an automatic system that facilitates access to the vehicle for disabled people with reduced or prevented motor skills and for older people with difficulty in making upward and downhill movements from the car.
The C400 seat can be installed indifferently in front or behind, on the right or left side of a vehicle according to the needs of the user.
The C400 outgoing swivel seat is entirely made of aluminum to ensure a lower load on the vehicle that would lead to imbalances on the homogeneous distribution of weights, causing vehicle misalignment and increased wear and tear (tires, dampers, trim etc.).
Movements, mechanisms, motors have been positioned so as to create a very compact device. The thickness of the base under the seat is only 90 mm. This allows, on most vehicles, to place the aid underneath the original seat.
Thanks to the remarkable extension of the output mechanisms, down to 400 mm and the resistance of the materials, the C400 outgoing seat can be installed even in vans near the sliding side hatch.
The standard version C400 comes with a wire pad. A wireless pushbutton can be supplied on request.
The C400 outgoing swivel seat is electrically operated and the output is programmable: the system controller stores the user's position by bringing the seat to the same distance each time we run the mechanism routine and close the door. Re-using the two forward / reverse buttons resets the old memory by activating the new mnemonic function.
In the "return" position, an unlock button allows adjustment of the backrest while, with a closed door, it is possible to electronically adjust the C400 forward and reverse travel.
MOUNTING KIT
Various installation kits such as brackets, seat extension bases and mobile guides are available to facilitate the installation of the swivel base, thus expanding the range of vehicles on which the swivel base can be installed.
In line with Fadiel Italiana's production philosophy, the outgoing swivel seat has been realized taking into account the highest aesthetic and ergonomic awards, enhancing the features of all brands and models of motor vehicles.